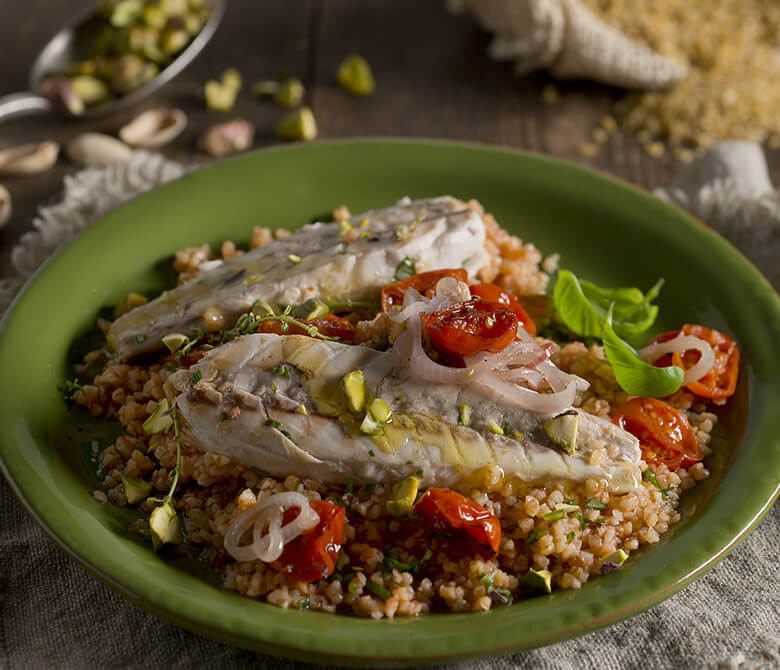 Ingredients
for 4 servings
---
350 g of bulgur
---
1 tsp of tomato concentrate
---
500 g of datterini tomatoes 
---
2 125 g cans of Rio Mare Grilled Mackerel Fillets in Extra Virgin Oilve Oil
---
a handful of pistachio nuts
---
a handful of dried tomatoes
---
1 clove of garlic
---
a bunch of thyme
---
a bunch of fresh oregano
---
1 tsp of brown sugar
---
1 fresh, not too spicy, chili pepper
---
extra virgin olive oil
---
sea salt
---
black pepper
---
fresh basil

Stampa Ricetta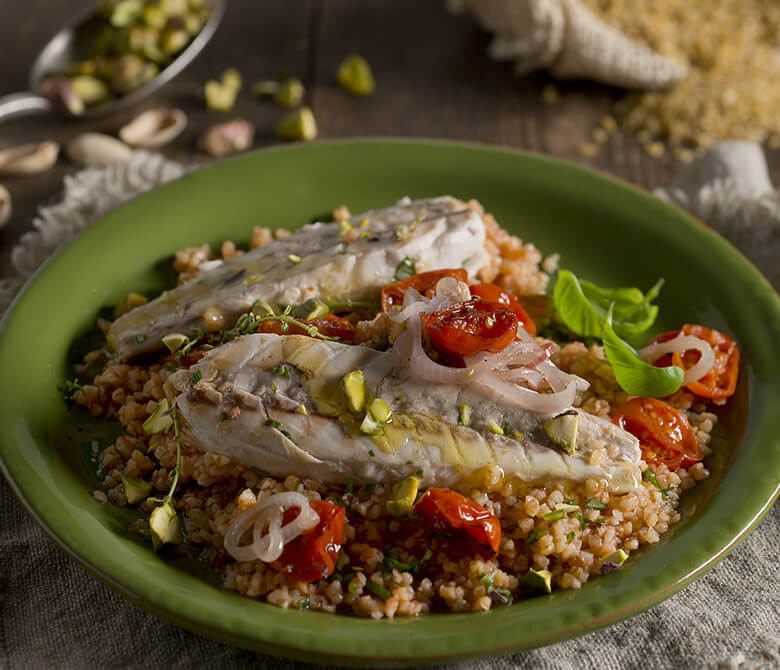 Preparation
1. Halve the datterini tomatoes, dress with a mixture of oil, salt, sugar, the chopped clove of garlic and black pepper. Place on a large baking sheet and bake in an oven pre-heated to 150°C for 30 minutes. Toast the pistachio nuts in a pan for a few minutes.

2. In the meantime, put the bulgur in a large bowl, dress with two tbs of oil and cover with 350 ml of boiling salted water and mix. Allow the liquid to absorb, add the tomato concentrate, cover with a lid and leave to soften (after 5 minutes, check to see whether you need to add more water). Once you have obtained an ideal consistency, add oil, salt, pepper and chopped oregano and basil to the bulgur. 

3. Mise en place: Plate in layers with the help of a pastry cutter. First a layer of bulgur, then the chopped dried tomatoes and finally the baked tomatoes. Sprinkle on the basil and finely chopped pistachio nuts and top with the mackerel fillets. Garnish with a drizzle of oil and a few leaves of mixed herbs.